Dayspring Music Box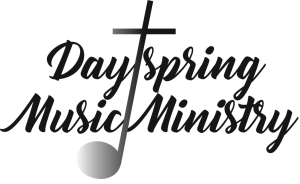 Dayspring Music Ministry is literally a dream come true. Here's the story from founder and president, Rex Broad.
"A Dream Occurs…
This organization was born of a dream. I'm not one to remember my dreams, but I remembered this one! In my dream, I was in a room surrounded by people I didn't know – some in beds who were very sick, some standing off in a corner and some closer – all communicating at various levels of confusion or clarity. In the center of the room was a small box that played Christian hymns. Each person in the room had a reaction; some were calmed and had their anxiety relieved, others began to draw closer and sing along.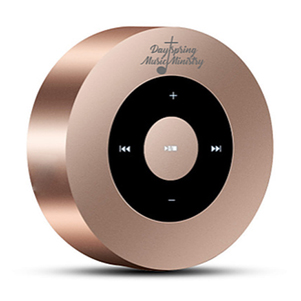 As I remembered the dream, I began to wonder how it could come to fruition – would it be possible that a small music box could provide peace and welcome memories to those who needed it? I knew I could manage a project, so I sought guidance from my pastor, family, and trusted friends. We made a prototype and tried it out with some local residents suffering from dementia. And sure enough, just as in my dream, these people became less agitated and some began singing along with the music.
A Dream Realized…
At that point it was time to make the dream a firmer reality. We put together a very capable Board of Directors – a medical doctor, a music professor, business counselors, pastors, and a worship leader – and got to work recording a few traditional Christian hymns. In our first 6 months, we have distributed over 200 Music Boxes to those in need."
The Music Box is a small .mp3 player, pre-loaded with music on a micro SD card. The unit is rechargeable and comes with the original SD card and first set of songs. It also comes with a charging cord and plug. This unit is Bluetooth enabled for an added feature.
To purchase your own Music Box, click here to visit the Dayspring Music Box website. There are currently two SD cards available, with more being planned. The traditional hymn card includes:
Amazing Grace
Be Thou My Vision
Blessed Assurance
Come Thou Fount
Great is Thy Faithfulness
How Great Thou Art
It is Well with My Soul
The Old Rugged Cross
Rock of Ages
Softly and Tenderly
What a Friend We Have in Jesus
Just a Closer Walk with Thee
Turn Your Eyes upon Jesus
You're Always There For Me by Joanna Fuchs
Psalm 23
Ephesians 2:4-7
Just released is the Christmas SD card which includes:
Angels From the Realms of Glory
Angels We Have Heard on High
Come, Thou Long-Expected Jesus
The First Noel
Hark! The Herald Angels Sing
It Came Upon a Midnight Clear
Joy to the World
Lo, How a Rose E'er Blooming
O Come, All Ye Faithful
O Holy Night
O Little Town of Bethlehem
Silent Night
Simply Jesus by Jeff Bargerstock
What Child is This?
You've got your Dayspring Music Box – now what? Watch this short instructional video for some quick tips on how to get started enjoying Christian music at your fingertips!
Sneak peek! Take a listen to a clip of Joy to the World…
Another sneak peek from the Christmas album: Silent Night…